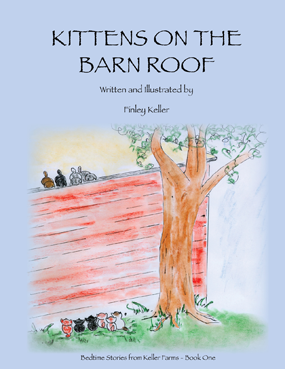 Little kittens, whose lives are all play, follow the older kittens up a tree and on to the barn roof. Going up was easy, but when it was time to come down, the tiny kittens only see a very steep descent to the ground. Mommy cat comes to the rescue. A true story from Keller Farms.
Nook from Barnes & Noble – $2.99
Reviews:
Kittens on the Barn Roof Vol. 1 November 7, 2012
Format:Paperback
The author has again written a story that is a good lesson for children to learn from. Hanging out with older kittens is cool but can get them into trouble and maybe hurt. When children relate with animals it teaches them that following the older children can lead to unwanted consequences.
5.0 out of 5 stars
Fabulous
January 29, 2013
Format:Paperback
This is an excellent book for children (and adults!) and the illustrations are wonderful. I have ordered one for two of my grandchildren who love animals and are also in that age group of figuring out whether to follow the pack, or not